MICHAŁ "NORNIK" GŁOWACKI
INFORMATION
---
ABOUT ME
Hello!
My name is Michal and I live in Poland. I'm fan of good old games (mainly released on Amiga) where real graphics and physic were not so important... as gameplay. My favorite games from that period are Settlers (part 1), X-Com: Enemy Unknown and Diggers. Each of them was something completely new and have "something" that made you to spent hours on playing it every day.
In my free time, after work, I'm making games. I have lots of fun while doing them, and hope that you will also feel the same while playing them. So, please look around and give them a chance.
If you have any questions regarding my games, or just want to say hello, please feel free to contact me at below email:
nornik81@gmail.com
​
---
Wspierane przez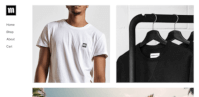 Stwórz własną unikalną stronę internetową przy użyciu konfigurowalnych szablonów.